B. A. (Hons.) - Liberal Arts
NPAT Result - B. A. (HONS.) - LIBERAL ARTS
Introduction
The Liberal Arts programme at NMIMS is a three year undergraduate, interdisciplinary programme geared towards creating holistic individuals capable of actively contributing to society through their chosen field of interest. The first two years are common to all while the third year is geared towards preparing students for careers. The semesters are thematically driven such that across subjects students are studying common themes. Some of the themes to be covered in the two years include: an understanding of contemporary India, understanding the historical context of the modern world, understanding revolutions among others. These themes will be explored through the lenses of Economics, History, Political Science, Psychology, Literature, Philosophy and Creative Expression. In the third year students will have the choice of taking up either (a) Advanced Courses in Humanities (b) Professional courses in media, journalism, design etc (c) General Management. The course architecture gives further details of the curriculum. Classroom teaching is complemented with field projects and study tours.
Course duration: 3 years
Intake: 80 Seats
Our Unique Pedagogy :
Trans-disciplinary and integrative approach to learning eliminating silos
Experiential learning modules
Non-threatening environment of learning and evaluation
Student-centric approach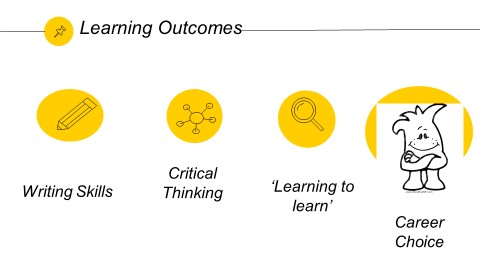 Careers after B. A. (Hons.) - Liberal Arts :
With your Liberal Arts degree, you may find careers in:
- Higher studies at any International or Indian University.
- Your preferred area of specialization - Media (TV, Films), Journalism, Fine Arts, Performing Arts, Art administration, Design architecture, Politics & Governance, Social Science and Humanities.
- Entrepreneurship
- Civil Services.
- Corporate World - most management companies want well-rounded people.
- People Centric Services.